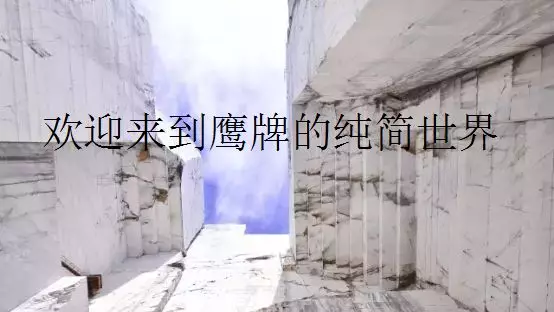 "要寻找世界上品质最优的白色大理石,一定要到意大利卡拉拉大理石矿区去找" ――位于意大利中北部的卡拉拉小镇,拥有世界上种类最多、品质最优的白色系大理石,被称为"世界大理石之都"。 这类石材因其独特高雅的纹理、通体润泽的纯白特点,成为人们喜爱的装修材料之一。欧洲贵族广为推崇,并应用到巴黎圣母院、大英博物馆、古罗马广场、比萨斜塔,罗马万神殿等著名建筑上。
"If you want to find the world best white marble, you must go to the marblemining area in Carrara, Italy." ——Located in the north central Italy, Carrara is famous for white marble with most varieties and best quality in the world, and is known as the "World Capital City of Marble". This kind of stone material has become one of the most popular decoration materials because of its unique elegant texture and the pure white characteristic with full-bodied glossy. It is widely respected by European aristocracy and applied to many famous buildings such as Notre-Dame de Paris, the British Museum, the Roman Square, the Leaning Tower of Pisa, the Roman Pantheon, etc.
鹰牌集团精选意大利卡拉拉矿区最珍贵的白色石材为创作来源,采用环保原料结合精湛工艺,产品色泽纯白通透,表面润泽细腻,纹理过渡自然柔和,独特脉络隐约可见,再现名贵白色大理石的自然风采。
Eagle Grouphas featured the most precious white stone from Carrara mining area in Italy as the source of creation, incorporated the environmentally friendly raw materials with exquisite techniques, produced products with pure white and transparent color, sleeky & glossy and delicate surface, soft and natural texture transition, looming the unique context, reproduced the natural style of valuable white marble.
鹰牌集团"女神"系列云集意大利明星大理石原版,爵士白、卡拉卡特、星白等经典款。每款产品均有600X600mm/800X800mm两种规格,在同一风格纹理下可展现抛光和仿古两种表面效果,同时每款产品还可呈现出10-12种不同表面纹理变化,更显空间独特效果。
The "Nymph Series" of Eagle Group is a collection of original Italian well-known marbles with classic models such as Jazz White, Calacatta and Star White. Each product has two specifications of 600X600mm and 800X800mm. Under the same style and texture, it may present two kinds of surface effects including polishing and antique effects. At the same time, each product may also present 10-12 kinds of different surface texture changes, highlighting more unique space effect.
超白配方
产品采用鹰牌独特的超白配方,表面白度高达75°,其中纯白产品的表面白度更高达80°,坯体白度高达55°,充分还原天然白色大理石的纯白风格,无惧各种倒角、开槽等加工应用。
Super white formula
This product adopts the unique Eagle super-white formula with a surface whiteness up to 75°,while for the pure-white product, its surface whiteness is up to 80° and body whiteness up to 55°, which enables fully restoration of the pure white style of the natural white marble, and could be processed with various chamfering, slotting, etc for different applications freely.
金刚釉工艺

采用鹰牌独创金刚釉工艺,表面釉量为普通全抛釉产品3倍,耐磨级别达到4级,高硬耐磨、板面超平、无水波纹,呈现通透的精致质感。
Diamond Glaze Technique
The Eagle originated diamond glaze technique is adopted, the surface glaze is three times more than the normal full-cast glaze products, enabling a wear resistance level up to grade 4, high hardness and wear resistance, super-flat tile surface without water ripple, presenting a transparent and delicate texture.
高端仿古工艺
精选进口仿古面釉,表面白度高达78°,底坯高达55°,耐磨级别达到4级,防滑级别达到R10,光泽度低至5-8度。 高硬耐磨、防污防滑,呈现高端仿古产品的高品质。
High-end Archaistic Technique
The imported antique glaze is carefully selected with a whiteness up to 78°for the surface and 55° for the base body, wear resistance level up to grade 4, anti-skidding level up to R10, while the glossinessis as low as 5-8 degrees. The characteristics of high hardness and wear resistance, anti-fouling and anti-skidding, help to present a high quality of high-end antique products.
爵士白(D6GA-01)
爵士白以纯白为底色,灰色纹理,清晰均匀密集,纹理独特,有如高山流水、自然而生,应用广泛,装饰效果极佳。
The background of Jazz white is pure white with gray texture, clear uniform and dense, its unique texture appears naturally just like high mountainswith flowing waters. It is widely used with excellent decorative effects.
E0D6GA-01(800*800mm)
星白(D6GA-03)
星白产品纯白底色,深浅度不一的灰色和黄色纹理搭配穿过,平行纹理,走向笔直,美感突现,充分扩张空间的纵伸感。
The background of Star white products is pure white, varying shades of gray and yellow texture running through in collocation, the parallel texture runs straight forward with aesthetic highlight, fully expanding the space with a vertical extension sense.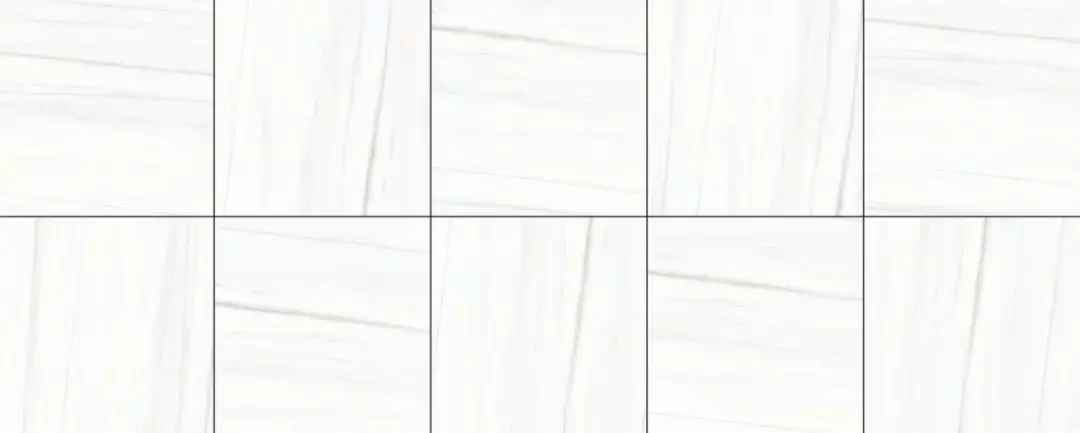 E0D6GA-03(800*800mm)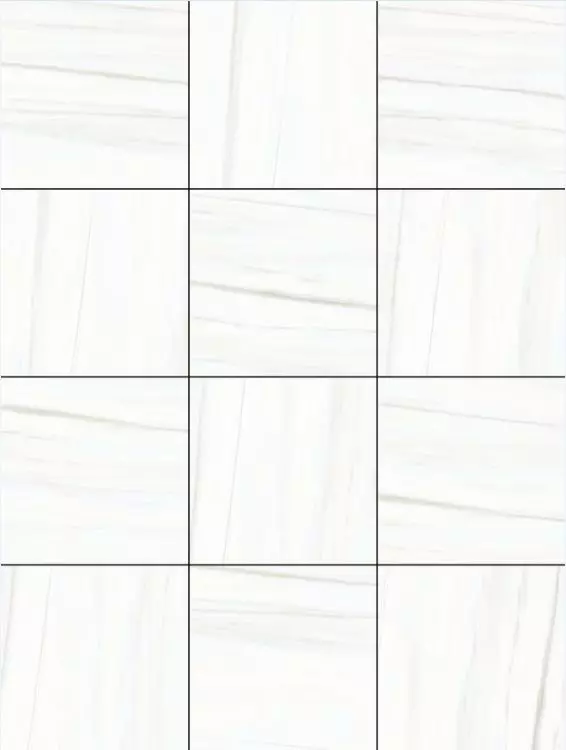 G0D6GA-03(600*600mm)
卡拉卡特(D6GA-04)
卡拉卡特,石相底色纯白,灰色纹理。色调柔和温馨,宛如一幅天然的山水水墨画,大理石质感表现得淋漓尽致,为空间带来高品位装饰效果。
Calacata, the stone background is pure white with gray texture. Its soft and warm tones is just like a natural landscape painting, incisively and vividly performed the marble texture, which brings high-grade decorative effect to the space.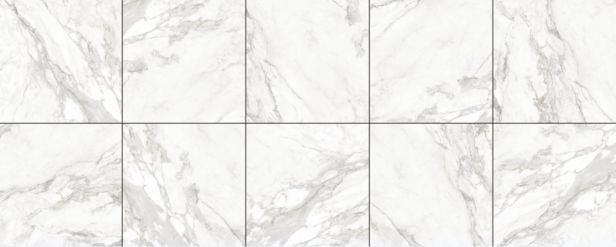 E0D6GA-04(800*800mm)
G0D6GA-04(600*600mm)
卡拉卡特-帕拉佐(D6GA-05)
卡拉卡特-帕拉佐,纯白底色,质地细腻,局部交错密集或稀疏的纹理分布,线条流动感强。大面积错位乱纹铺贴,更能体现大理石的天然效果。
Calacata-Palazzo, pure white background with fine texture, strong line mobility created by interlaced dense or sparse texture distribution in local sections. Large areas of mislaid and striped paving may better reflect the natural effect of marble.
E0D6GA-05(800*800mm)
G0D6GA-05(600*600mm)
卡拉卡特金(D6GA-02/06)
石材的稀缺性保证了它在市场上的高价值,底色为暖白色,金黄与棕黄色纹理交融而行,纹理多变但总是沿着固定的方向延伸,各种场所应用都能透出稀贵奢华之风范。
The scarcity of this material guarantees its high value in the market. The background color is warm white with golden and brown texture crossing through. The texture is changeable but always extends along a fixed direction. Any kinds of applications in various places could show the style of luxury.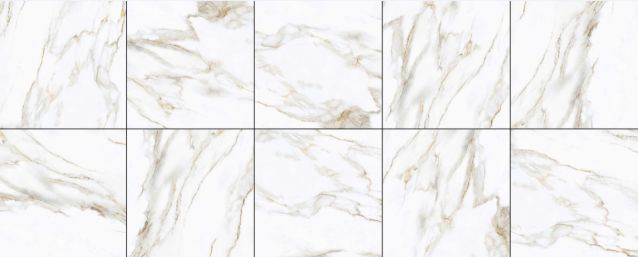 E0D6GA-02(800*800mm)
G0D6GA-06(600*600mm)