China Eagle Brand, World Impression
Guangdong Foshan Shiwan Eagle Brand Ceramic Co., Ltd. is a large-scale international construction ceramics enterprise specialized in research, development, production and sales. During more than 43 years since its founding in 1974, Eagle has been a leader in China ceramic industry. Since1998, Eagle Group has participated in Italy "Bologna Ceramic Fair" on behalf of China ceramic industry for 20 consecutive years, leading internationalization of China ceramics.

Creating brands with fine quality and winning market with good service, Eagle Ceramics has established a good reputation in the industry as well as among consumers at home and abroad. It has obtained honors like "China Famous Brand Products", "China 500 Most Valuable Brands", "China Famous Trademark", "Famous Brand Products in Chinese Ceramic Industry", "AAA Grade Enterprise Credit", "Key High-tech Enterprises of National Torch Plan", "Top Ten Most Trusted Ceramics Brands by Consumers", etc. Eagle Brand has also passed "ISO9001-2000 International Quality Management System Authentication in Both English and Chinese", "National Mandatory 3C Authentication" and "China Environmental Labeling Product Certification".

Eagle Ceramics, a flagship brand of Eagle Brand Group, has adhered to four innovative concepts of leading products, technology, new materials application and standards, and created numerous patented technologies to establish Eagle Brand Group's leading position in the industry.


Eagle Brand is one of the earliest domestic enterprises contacting with international markets with nearly 20 years of export experience, whose products have been exported to nearly 1000 customers in more than 100 countries and regions such as the United States, Italy, Malaysia, Brazil, South Africa, and owns registered trademarks in 10 countries and regions such as Hong Kong, Taiwan, Singapore, Jordan, Madrid, Lebanon, Oman, Thailand, South Korea, Great Britain and Northern Ireland.


Finding world famous polished tiles in China
Finding Chinese famous polished tiles in Eagle


With world-class building ceramic production lines, Eagle Ceramics is specialized in production and sales of polished ceramic tiles, glazed ceramic tiles, glazed interior tiles, fully polished glazed tiles, composite glass ceramic tiles and other products inheriting international quality in accordance with international leading quality standards.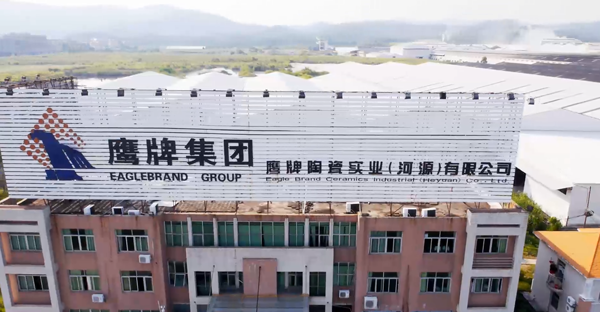 Eagle Ceramics has four production bases in Foshan, Heyuan, Dongyuan, and Jiangmen, with an annual ceramic tile output of more than 30,000,000 square meters, and establishes high-end R & D production line in Foshan, taking the road of innovation and differentiation.